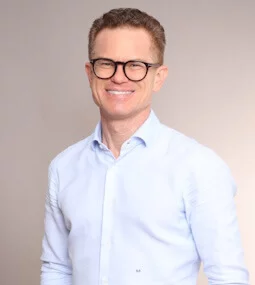 Dr. med. David Kiermeir
Specialist for plastic, reconstructive and aesthetic surgery (FMH)
more than 15 years of surgical experience

since 12 years exclusively active in the field of plastic and aesthetic surgery

over 6,000 performed surgeries
Facts on Abdominoplasty
| | |
| --- | --- |
| Treatment duration: | approx. 2 - 3 hours |
| Anaesthesia: | generall anaesthetic |
| Hospital stay: | outpatient / 1 - 2 days (after navel transfer) |
| Removal of sutures: | after approx. 2 weeks |
| Sports: | after approx. 4 weeks |
| Costs: | CHF 12.0000 |
Regain your shape
---
If you're aware of excess skin in your abdominal region and want to regain your former shape following a pregnancy or weight loss, we can certainly help you here at our practice in Bern. Abdominoplasty, also known as a 'tummy tuck', is a treatment option for anyone with visible, troubling folds in their stomach, whether above the navel, below it or both. The resulting scar is placed as low as possible, close to the pubic hair border and to the side at hip height so that it can be effectively hidden by even low-cut lingerie.
In our work, we differentiate between a mini-abdominoplasty – a less extensive procedure in which we only tighten tissues below the navel – and abdominoplasty with navel repositioning. In the case of the latter, excess skin it also removed from above the navel. The operation can also remove stretch marks left behind by pregnancy.
Frequently asked questions on abdominoplasty
In some cases, and in particular following pregnancy, the straight abdominal muscles move apart, which impacts above all on the contours of a person's waist.
Therefore, to achieve an attractive, taut stomach, it's also necessary to gather the straight abdominal muscles together to close the gap between them.
What does abdominoplasty involve and how should I look after the surgical results?
The operation lasts 2–3 hours and is performed under general anaesthetic. While a mini-abdominoplasty can be carried out on an outpatient basis, an abdominoplasty with navel repositioning requires an two-night inpatient stay. After the operation, you'll need to wear a specially adapted abdominal strapping day and night for 4 weeks.
During the first 2–4 weeks, you should avoid strenuous physical activities and only carry loads of 10kg and under. After 4 weeks, you'll be free from any restrictions. If your work is quite sedentary, you should take a 1–2 week rest period off work.
Potential risks include haemorrhaging, infection, wound healing deficits, a collection of fluid in the abdomen (known as a 'seroma') and sensory disturbances below the navel.
Opening hours
| | |
| --- | --- |
| Monday | 8.00 a.m. - 5.30 p.m. |
| Tuesday | 8.00 a.m. - 5.30 p.m. |
| Wednesday | 8.00 a.m. - 5.30 p.m. |
| Thursday | 8.00 a.m. - 5.30 p.m. |
| Friday | 8.00 a.m. - 5.30 p.m. |
and by appointment