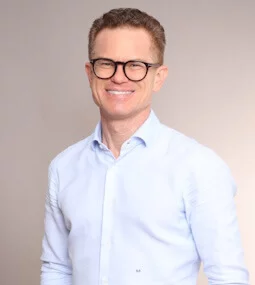 Dr. med. David Kiermeir
Specialist for plastic, reconstructive and aesthetic surgery (FMH)
more than 15 years of surgical experience

since 12 years exclusively active in the field of plastic and aesthetic surgery

over 6,000 performed surgeries
Facts on breast lifting
| | |
| --- | --- |
| Treatment duration: | approx. 1 - 2,5 hours |
| Anaesthesia: | general anaesthetic |
| Hospital stay: | outpatient / sometimes stationary for 1 - 2 days |
| Removal of sutures: | not necessary |
| Sports: | after approx. 4 weeks |
| Costs: | CHF 12.000 |
When is breast lifting necessary?
---
If a woman's breasts slacken considerably following pregnancy, weight loss or simply as part of the natural ageing process, a breast lift may be a sensible choice. In this procedure, we remove excess skin and return the nipple to its former position higher on the breast.
This makes it possible to reshape glandular tissue and restore lost tautness and elasticity. If the patient wishes, the surgery can also be combined with a procedure to insert implants to augment the breasts.
Frequently asked questions on breast lift
What do I need to know about a breast lift?
Breast lifting, also known as a breast uplift or mastopexy, is usually performed under general anaesthetic and takes 1–2.5 hours depending on the scope of the operation. While minor lifts leaving a scar around the areola can be carried out on an outpatient basis, more extensive breast lifting surgery creates an additional vertical or T-shaped scar and requires an impatient stay to ensure your comfort and safety. Drains are inserted as required and are normally removed the day after the operation. The recovery time is 1–2 weeks. Following the operation, you should wear a sports bra for 4 weeks and avoid unduly straining the breast muscles – by lifting heavy loads, for example.
Sutures no longer need to be removed, as we use absorbable sutures in this surgery. Patients wear bandages for around 2 weeks after surgery and can shower after a few days. Then, after 3 weeks, a scar cream is applied to care for the fresh scars. It's crucial that patients protect their scars against direct sunlight for about 1 year. We'd be happy to show you some results from 1 year after the operation in a consultation here in Bern.
What are the potential complications in breast lifting surgery?
Any complications are very rare, though the most common include scar healing deficits and sensory disturbances around the nipple. It's also possible that the surgery could impair breastfeeding in future.
As with all operations, there is an inherent risk of wound healing deficits, secondary haemorrhages and infections. However, such issues occur very rarely in healthy women.
How long should I wait after pregnancy before a breast lift?
You should wait until you've finished breastfeeding and your body has fully recovered from the pregnancy. In most cases, we advise waiting a further 3 or 4 months after the nursing period before undergoing a breast lift.
Opening hours
| | |
| --- | --- |
| Monday | 8.00 a.m. - 5.30 p.m. |
| Tuesday | 8.00 a.m. - 5.30 p.m. |
| Wednesday | 8.00 a.m. - 5.30 p.m. |
| Thursday | 8.00 a.m. - 5.30 p.m. |
| Friday | 8.00 a.m. - 5.30 p.m. |
and by appointment