Wrinkle treatment for lips in Bern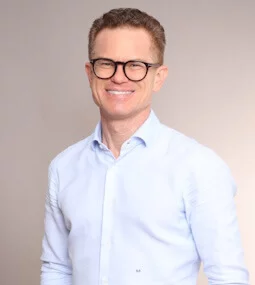 Dr. med. David Kiermeir
Specialist for plastic, reconstructive and aesthetic surgery (FMH)
more than 15 years of surgical experience

since 12 years exclusively active in the field of plastic and aesthetic surgery

over 6,000 performed surgeries
Facts on lip wrinkle treatment
| | |
| --- | --- |
| Treatment duration: | 2 - 3 sessions, 15 minutes each |
| Anaesthesia: | local anaesthetic |
| Hospital stay: | not necessary |
| Removal of sutures: | not necessary |
| Sports: | after a few weeks |
| Costs: | from CHF 600 |
Wrinkles form around the mouth as part of the natural ageing process and can often be amplified by a range of factors. Some people's genetic make-up causes wrinkles to form; for others, environmental factors like smoking and sunlight accelerate wrinkle formation. Our expressions also amplify wrinkles around the lips and mouth as the muscles are always in motion.
Yet no matter what the cause, wrinkles around their mouths are often very troubling for those affected. Wrinkles in this area make a person's face appear older and more severe. However, there are a variety of effective methods to treat upper and lower lip wrinkles. First and foremost, a suitable treatment would be hyaluronic acid injections, potentially in combination with treatment to contour the edge of the lips. Slight mouth wrinkles can often also be treated effectively using autohaemotherapy.
The lip wrinkle treatment procedure
Before performing the wrinkle treatment, Dr Kiermeir holds a consultation meeting with the patient in Bern to discuss various potential treatments. He then works with the patient to define the scope of the treatment. In this meeting, he gives the patient detailed information on how to prepare, as well as on the prospects and risks involved.
In wrinkle treatments using hyaluronic acid, we inject fillers in upper and lower lip wrinkles to smooth them out. To do this, Dr Kiermeir injects the hyaluronic acid under local anaesthetic at precisely defined locations. Using special cannulas, he distributes the fillers in an even, gentle manner in order to achieve a natural-looking result. If the wrinkles extend to the lips themselves, additional lip contouring can also be carried out.
To avoid overcorrection, Dr Kiermeir usually only injects very small quantities of hyaluronic acid in a single session. The course of treatment usually comprises 2–3 separate sessions, each around 15 minutes in length. The treatments are carried out at intervals of several months.
After the wrinkle treatment
Following treatment, the first step is to cool the lip area. Patients can then leave our clinic in Bern straight after the treatment. It's important to protect the treated areas and touch them as little as possible in the first days after treatment. For the first week, you should avoid exercise, visiting the sauna and solarium or exposing the area to direct sunlight.
Generally speaking, patients are fully presentable straight after the procedure. However, you may experience some slight swelling and bruising immediately afterwards, though this normally recedes within a few days. Beyond that, the patient isn't restricted in any way and can go about their daily routine as normal.
Frequently asked questions on wrinkle treatment for lips
Opening hours
| | |
| --- | --- |
| Monday | 8.00 a.m. - 5.30 p.m. |
| Tuesday | 8.00 a.m. - 5.30 p.m. |
| Wednesday | 8.00 a.m. - 5.30 p.m. |
| Thursday | 8.00 a.m. - 5.30 p.m. |
| Friday | 8.00 a.m. - 5.30 p.m. |
and by appointment