Breast malformation in Bern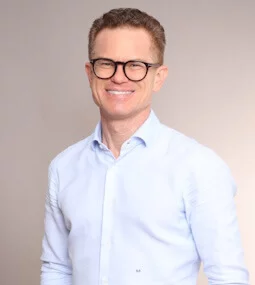 Dr. med. David Kiermeir
Specialist for plastic, reconstructive and aesthetic surgery (FMH)
more than 15 years of surgical experience

since 12 years exclusively active in the field of plastic and aesthetic surgery

over 6,000 performed surgeries
Facts on breast malformations
| | |
| --- | --- |
| Treatment duration: | approx. 1 - 4 hours |
| Anaesthesia: | general anaesthetic |
| Hospital stay: | 1 - 2 days |
| Removal of sutures: | after a few weeks |
| Sports: | after a few weeks |
There are various possible causes of breast malformation. These conditions often develop during puberty as a result of illnesses or genetic predisposition. However, pregnancy and the natural ageing process also cause a woman's breasts to change significantly. For those affected, the psychological burden is often more severe than any physical implications.
Breast correction surgery can remedy an array of malformations in the breasts and nipples. For instance, patients might consider surgery to correct asymmetrical, drooping, oversized or under-developed breasts. Tuberous breasts are common and can also be surgically corrected. Dr Kiermeir would be glad to advise you personally of the treatments open to you in his practice in Bern.
Before the breast correction
Before performing such operations, Dr Kiermeir holds a one-to-one consultation with each patient in his Bern practice. In this meeting, he details the treatment options and explains the benefits and drawbacks of the procedure before determining a specific treatment plan. The precise steps involved depend on the patient's individual circumstances.
In order to prevent complications, Dr Kiermeir will give you various instructions to prepare for the surgery. For instance, you might need to stop taking anticoagulant medication for several weeks before the procedure. What's more, Dr Kiermeir will ask about any known allergies or existing conditions that could impact on the surgery and its results.
The breast correction procedure
Breast correction surgery is usually an inpatient procedure performed under general anaesthetic. Depending on the complexity of the operation, it can take between 1 and 4 hours. The procedure itself can vary significantly depending on the patient's individual situation. Potential steps could include removing excess tissue, relocating or reconstructing the nipple, or inserting breast implants.
If the procedure includes fat transfers to augment the breast, fat will have to be extracted before the correction procedure itself. To do so, Dr Kiermeir removes the requisite fat tissue from other parts of the body, usually drawing on classic 'problem areas'.
In the case of an asymmetrical bust or breast reconstruction, it may be necessary to combine several techniques. Some patients may even require multiple procedures. After the breast correction surgery, Dr Kiermeir sutures the wounds and applies a supportive bandage, which is then replaced by a special supportive bra a few days later.
After the procedure
Patients usually have to stay in the practice with us for a short time after the procedure. They can shower again after 24 hours. In the weeks following the procedure, patients have to wear a special supportive bra to protect the surgical wounds. They should also avoid sport and exercise at first. Dr Kiermeir will provide you with more detailed aftercare instructions in a one-to-one consultation.
The sutures are removed a few weeks after the breast correction surgery. You should allow about 1 to 2 weeks for the results to become fully socially presentable. During this time, Dr Kiermeir will regularly check the treatment results in order to detect any complications as soon as possible.
Frequently asked questions on breast malformation
Opening hours
| | |
| --- | --- |
| Monday | 8.00 a.m. - 5.30 p.m. |
| Tuesday | 8.00 a.m. - 5.30 p.m. |
| Wednesday | 8.00 a.m. - 5.30 p.m. |
| Thursday | 8.00 a.m. - 5.30 p.m. |
| Friday | 8.00 a.m. - 5.30 p.m. |
and by appointment