Wrinkle treatment with Botulinumtoxin in Bern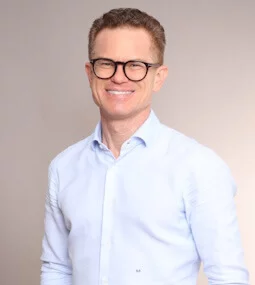 Dr. med. David Kiermeir
Specialist for plastic, reconstructive and aesthetic surgery (FMH)
more than 15 years of surgical experience

since 12 years exclusively active in the field of plastic and aesthetic surgery

over 6,000 performed surgeries
Facts on wrinkle treatment with Botulinumtoxin
| | |
| --- | --- |
| Treatment duration: | 20 - 60 minutes |
| Anaesthesia: | not necessary |
| Hospital stay: | outpatient |
| Removal of sutures: | not necessary |
| Presentable: | immediatly |
| Costs: | from CHF 300 |
Botulinumtoxin treatments are some of the most common procedures carried out by plastic-aesthetic practitioners around the world. Injecting botulinum toxin can alleviate the appearance of troubling wrinkles, leaving the treated areas of skin looking rejuvenated and refreshed. In doing so, we also retain the patient's natural facial expressions.
What results can Botulinumtoxin achieve?
In plastic-aesthetic medicine, we primarily use the botulinum toxin to treat wrinkles and folds of skin around the muscles that control a person's expressions. These wrinkles include crow's feet or laugh lines, which form around the eyes as the years go by. Brow lines and frown lines also form as a result of the constant movement of facial muscles – and can also be treated effectively with Botulinumtoxininjections.
Furthermore, Botulinumtoxin treatments can be used to smooth out wrinkles in the décolleté, neck, chin and cheek areas. You can also choose to have the treatments performed using natural filler materials if you would prefer. Naturally, we'd be happy to advise you on this in a one-to-one consultation here in Bern.
How does Botulinumtoxin work?
The botulinum toxin has been used successfully in the medical field for many years. As a wrinkle treatment, it's effective in various respects. When carefully injected at specific locations in muscles that control our expressions, the toxin causes these muscles to relax. It interrupts the transmission of signals along nerves, preventing the treated muscle fibres from moving. As a result, fewer wrinkles form in the treated areas of the face. What's more, the appearance of existing wrinkles is also dramatically reduced. Botulinumtoxin treatments often also enhance a patient's complexion.
Depending on the patient's individual situation, a Botulinumtoxin treatment can take between 20–60 minutes. The botulinum toxin takes full effect around 2–10 days after the treatment.
After the Botulinumtoxin treatment
Wrinkle treatments with Botulinumtoxin are gentle outpatient procedures which in no way impact on how presentable a person looks. Patients can leave our clinic in Bern as soon as the treatment is over.
The wrinkle-smoothing effects of the botulinum toxin last for around 3–6 months. At that point, further injections can be given in order to retain the results of the first treatment.
Frequently asked questions on wrinkle treatment with Botulinumtoxin
Opening hours
| | |
| --- | --- |
| Monday | 8.00 a.m. - 5.30 p.m. |
| Tuesday | 8.00 a.m. - 5.30 p.m. |
| Wednesday | 8.00 a.m. - 5.30 p.m. |
| Thursday | 8.00 a.m. - 5.30 p.m. |
| Friday | 8.00 a.m. - 5.30 p.m. |
and by appointment