Lower eyelid lift in Bern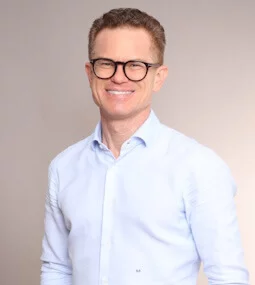 Dr. med. David Kiermeir
Specialist for plastic, reconstructive and aesthetic surgery (FMH)
more than 15 years of surgical experience

since 12 years exclusively active in the field of plastic and aesthetic surgery

over 6,000 performed surgeries
Facts on lower eyelid lifting
| | |
| --- | --- |
| Treatment duration: | approx. 1 hour |
| Anaesthesia: | local anaesthetic |
| Hospital stay: | outpatient |
| Removal of sutures: | after approx. 1 week |
| Sports: | after 1 - 3 weeks |
| Costs: | CHF 5.000 - 6.500 |
For many people, time noticeably leaves its mark in the area around their eyes. Typical signs of ageing in this area include wrinkles and bags under the eyes. Smoking, stress and a lack of sleep can often worsen the appearance of bags under the eyes even further. Yet a surgical lower eyelid correction at our practice in Bern could lift slackened areas of skin again, noticeably rejuvenating their appearance.
A lower eyelid lift (also known as lower blepharoplasty) is a plastic-aesthetic procedure to remove excess fat tissue from the lower eyelid area. This means we can successfully remove bags from under the eyes, leaving the patient's face refreshed, revitalised and rejuvenated.
How does a lower lid lift work?
Bags under the eyes form due to accumulations of fat tissue. These clusters of fat tissue develop as part of the normal ageing process, and so can't always be avoided. As we get older, our skin loses its elasticity – which further contributes to the formation of bags under the eyes. The consequences are drooping, slackened lower eyelids which make the face appear tired and sombre.
In a lower eyelid correction, we remove fat tissue along with excess skin. To lift the skin, we make precise incisions which are almost invisible when healed. The procedure also includes the opportunity to tauten the muscles of the lower eyelid and thereby enhance the treatment results. A lower eyelid lift takes around an hour and can usually be performed under local anaesthetic here in Bern.
The lower eyelid lift procedure
Before performing the lower eyelid correction, Dr Kiermeir holds a one-to-one consultation with the patient in his clinic in Bern. In this appointment, he explains the treatment benefits and the risks involved. What's more, he explores the patient's individual requirements and precisely defines the scope of treatment.
In the lower eyelid correction procedure itself, Dr Kiermeir makes a precise incision following the contours of the eyelid at the pre-defined location. He makes the incision directly below the lash line in order to avoid visible scarring. Dr Kiermeir then uses this incision to remove the protruding fat tissue along with any excess skin. He then sutures the wound and applies a special plaster to protect it.
If the lid lifting procedure is performed under local anaesthetic, the patient will be able to leave our clinic in Bern the same day. The final results of the treatment can then be seen after some 8–10 days.
Frequently asked questions on lower eyelid lifting
Opening hours
| | |
| --- | --- |
| Monday | 8.00 a.m. - 5.30 p.m. |
| Tuesday | 8.00 a.m. - 5.30 p.m. |
| Wednesday | 8.00 a.m. - 5.30 p.m. |
| Thursday | 8.00 a.m. - 5.30 p.m. |
| Friday | 8.00 a.m. - 5.30 p.m. |
and by appointment