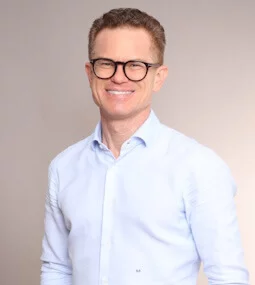 Dr. med. David Kiermeir
Specialist for plastic, reconstructive and aesthetic surgery (FMH)
more than 15 years of surgical experience

since 12 years exclusively active in the field of plastic and aesthetic surgery

over 6,000 performed surgeries
Facts on brow lifting
| | |
| --- | --- |
| Treatment duration: | 1 - 2 hours |
| Anaesthesia: | local or general anaesthetic |
| Hospital stay: | 1 - 2 days |
| Removal of sutures: | after approx. 1 week |
| Presentable: | after 1 - 2 weeks |
| Costs: | CHF 12.000 |
As our skin loses its elasticity over the years, wrinkles often form on our foreheads – typically in the form of age-induced worry lines. Our eyebrows also begin to droop as we get older. The result? A weary and even sombre facial expression. A brow lift can counteract these signs of ageing effectively, leaving the face refreshed and thoroughly rejuvenated.
What can a brow lift achieve?
A brow lift is a plastic-surgical procedure in which the brow is tautened and the eyebrow area lifted. It visibly rejuvenates a person's face: by smoothing out brow lines, their face once again radiates freshness and vitality. A brow lift can also be used to combat a receding hairline, and can therefore help to compensate for a high forehead.
We perform the procedure here in Bern, and always take your personal situation and wishes into account. Doing so is the only way to ensure a natural-looking result that is to your full satisfaction. Consequently, the scope of treatment required can vary from one patient to the next. In general, though, the treatment takes 1–2 hours.
The brow lift procedure
After preparing for the brow lift operation, Dr Kiermeir makes tiny incisions in precisely predetermined locations along the patient's hairline. The skin on the patient's forehead is detached in places and lifted to the required position. Dr Kiermeir then sutures the incisions and applies a protective bandage or plaster to the wound.
Depending on the treatment scope, a brow lift may be carried out under local or general anaesthetic. A brow lift under general anaesthetic is an inpatient procedure after which patients stay in our clinic in Bern for several days. In the case of a procedure performed under local anaesthetic, patients can usually leave our clinic in Bern the same day.
After the brow lift
A brow lift is a low-risk procedure and usually heals without incident. Despite this, it's important that the patient diligently follows their aftercare routine to ensure that the wounds heal properly. After the operation, you should cool your forehead regularly to reduce any potential swelling or bruising. What's more, we also recommend that you sleep with your torso and head in a raised position at first. You should avoid sports and exercise for the first few weeks.
The sutures are removed around a week after the brow lift. Dr Kiermeir will check the treatment results on a further occasion, when he will also inspect how the wound is healing. The results will be fully presentable around 1–2 weeks after the procedure.
Frequently asked questions on brow lifting
Generally speaking, a brow lift is a low-risk procedure. A brow lift performed under general anaesthetic entails the same risks as all operations in which patients are put to sleep. If you suffer from any intolerances to specific medications or bandaging materials, you could suffer intolerance reactions. You should therefore make sure to inform Dr Kiermeir in advance of any such issues.
Slight pain, swelling and bruising can sometimes develop following the procedure. However, such symptoms usually subside within a few days. If you wish, you can take painkillers to counteract any mild pain.
A brow lift does leave behind fine scars, though these are usually almost invisible to the naked eye. Dr Kiermeir takes care to make surgical incisions in the most inconspicuous locations possible and uses fine sutures to close the wounds. By diligently following an aftercare routine, the patient can also help to ensure the wounds heal almost scar-free.
Opening hours
| | |
| --- | --- |
| Monday | 8.00 a.m. - 5.30 p.m. |
| Tuesday | 8.00 a.m. - 5.30 p.m. |
| Wednesday | 8.00 a.m. - 5.30 p.m. |
| Thursday | 8.00 a.m. - 5.30 p.m. |
| Friday | 8.00 a.m. - 5.30 p.m. |
and by appointment