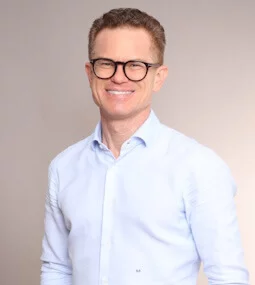 Dr. med. David Kiermeir
Specialist for plastic, reconstructive and aesthetic surgery (FMH)
more than 15 years of surgical experience

since 12 years exclusively active in the field of plastic and aesthetic surgery

over 6,000 performed surgeries
Facts on Gynaecomastia
| | |
| --- | --- |
| Treatment duration: | 1,5 - 2 hours |
| Anaesthesia: | local anaesthetic / twilight sleep |
| Hospital stay: | outpatient |
| Removal of sutures: | after 1 - 2 weeks |
| Sports: | after approx. 6 weeks |
| Costs: | CHF 6.500 |
Gynaecomastia denotes an enlargement of a man's mammary glands. Contrary to popular belief, this complex disorder is not related to a person's weight but is instead usually caused by hormone imbalances. It results in an enlargement of one or both of a man's breasts.
Many men with the condition suffer considerably as a result of their feminine chest. However, surgery to reduce the size of the breasts can successfully remedy gynaecomastia. Male breast correction is usually an outpatient procedure performed under local anaesthetic, and generally takes around 2 hours. The patient can then leave our clinic in Bern on the day of the procedure.
What is Gynaecomastia?
Gynaecomastia is a medical term for an enlarged male breast. More precisely, this condition is caused by an enlargement of the mammary glands, which causes excess glandular tissue to form. Some people also refer to this as 'real' gynaecomastia.
Male breasts can also become enlarged as a result of being overweight. In this case, it's not a condition in the usual sense of the word; instead, this concerns collections of fat tissue in the chest area. For such instances, medical professionals use the term 'pseudogynaecomastia'.
No matter what the cause, an enlarged breast is a major psychological burden for men to bear, with young men among the most common sufferers. Around 60% of all young men will suffer from enlarged mammary glands, though these generally form back of their own accord in the course of puberty. However, if this doesn't happen, plastic-aesthetic surgical breast reduction could be an option.
Surgical breast reduction for gynaecomastia
In many cases, an operation to reduce the size of a man's breast is an effective course of treatment. While the surgery is used for patients with diagnosed gynaecomastia, it's also suitable for patients with excess fat tissue in the breast area. In both cases, excess tissue is surgically removed and the skin in the chest area is tautened as necessary.
Before the breast reduction is carried out, the patient meets Dr Kiermeir in Bern for a detailed consultation. The doctor starts by examining the patient's condition before detailing potential treatment methods. Then, in consultation with the patient, he decides on a suitable course of treatment and type of anaesthetic.
The surgery itself takes between 90 and 120 minutes and can often be carried out under local anaesthetic or with twilight sedation. In rare cases, such as particularly complex procedures, a general anaesthetic may be required. Such instances also require a brief inpatient stay in our Bern practice.
In performing the breast reduction, Dr Kiermeir starts by making the required incisions in the skin around the nipples. He then uses these small incisions to remove glandular tissue and any excess fat tissue as required. If required, liposuction is performed using a fine cannula.
After the breast reduction
After the operation, Dr Kiermeir inserts surgical drains to ensure that any wound secretions drain freely. The patient is also given a chest bandage to reduce swelling. This bandage needs to be worn for around 2 weeks following the breast reduction. To help secure the best treatment results, we recommend wearing compression clothing in the weeks that follow.
It's important to protect the treated areas at first, and regularly check-ups are also required. Dr Kiermeir then removes the drains a few days after the operation; sutures are removed after around 1 to 2 weeks. To prevent the occurrence of complications, you should avoid sports and exercise for the first few weeks after breast reduction surgery.
Frequently asked questions on gynaecomastia
What do I need to consider before breast reduction surgery?
If the operation is to be performed under general anaesthetic, there are several rules you should follow before undergoing the procedure. For instance, you may need to temporarily stop taking certain medication. In your one-to-one consultation here in Bern, Dr Kiermeir will give you precise details of the preparation required in your case. Furthermore, in the case of patients who are severely overweight, it's worth attempting other weight loss methods before undergoing breast reduction surgery.
What anaesthetic is required to treat gynaecomastia?
Breast reduction surgery to correct gynaecomastia can usually be performed under local anaesthetic. A twilight sedative can also be administered if the patient would prefer. This means that the patient is not aware of the operation taking place. For more extensive operations, a general anaesthetic may be sensible for medical reasons.
What are the risks involved in male breast reduction surgery?
Breast reduction surgery to treat gynaecomastia is generally a very safe procedure when carried out by an experienced specialist doctor like Dr Kiermeir. In some cases, a patient's individual disposition may result in more extensive scarring, though this can usually be easily and effectively treated. Breast reduction surgery performed under general anaesthetic entails the same risks as all operations.
What side effects should I expect?
In the days following the procedure, you may experience mild side effects like pain and bruising. However, such issues usually dissipate quickly, and you can use standard painkillers as required to treat any lasting pain.
Opening hours
| | |
| --- | --- |
| Monday | 8.00 a.m. - 5.30 p.m. |
| Tuesday | 8.00 a.m. - 5.30 p.m. |
| Wednesday | 8.00 a.m. - 5.30 p.m. |
| Thursday | 8.00 a.m. - 5.30 p.m. |
| Friday | 8.00 a.m. - 5.30 p.m. |
and by appointment