Breast augmentation in Bern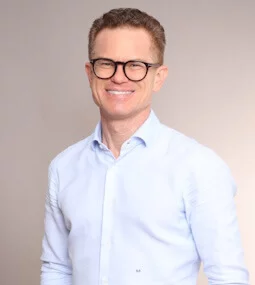 Dr. med. David Kiermeir
Specialist for plastic, reconstructive and aesthetic surgery (FMH)
more than 15 years of surgical experience

since 12 years exclusively active in the field of plastic and aesthetic surgery

over 6,000 performed surgeries
Facts on breast augmentation
| | |
| --- | --- |
| Treatment duration: | approx. 1 hour |
| Anaesthesia: | general anaesthetic |
| Hospital stay: | outpatient or 1 day stationary |
| Removal of sutures: | not necessary |
| Sports: | after approx. 4 weeks |
| Costs: | from CHF 7.500 |
Who might benefit from breast augmentation surgery?
---
Breast augmentation procedures are a particular focus of Dr Kiermeir's work. Modern medicine has developed a variety of methods to help women who are unhappy with the shape or size of their bust. Large, plump breasts have always been considered a central symbol of femininity and attractiveness. However, life events such as pregnancies and weight changes can permanently alter the shape of a woman's breasts, potentially affecting how happy she feels in her body. In this case, it's well worth considering the option of breast augmentation. Most women who feel unhappy with their bust opt for a moderate augmentation.
Such results can be achieved through surgical fat transfer or insertion of silicone implants, which come in a range of shapes and sizes. As a general rule, women choose a procedure to augment their breasts by up to two cup sizes; this moderate scope ensures that the silicone not only looks attractive but also feels natural to the touch. The issue of which method can best achieve your desired results will be discussed in detail in a consultation meeting. In this appointment, we explore and discuss the patient's individual requirements and examine whether their preconceptions are medically feasible.
Frequently asked questions on breast augmentation
Opening hours
| | |
| --- | --- |
| Monday | 8.00 a.m. - 5.30 p.m. |
| Tuesday | 8.00 a.m. - 5.30 p.m. |
| Wednesday | 8.00 a.m. - 5.30 p.m. |
| Thursday | 8.00 a.m. - 5.30 p.m. |
| Friday | 8.00 a.m. - 5.30 p.m. |
and by appointment