Breast augmentation in Bern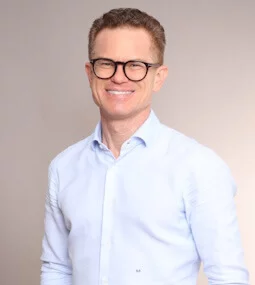 Dr. med. David Kiermeir
Specialist for plastic, reconstructive and aesthetic surgery (FMH)
more than 15 years of surgical experience

since 12 years exclusively active in the field of plastic and aesthetic surgery

over 6,000 performed surgeries
Facts on breast augmentation
| | |
| --- | --- |
| Treatment duration: | approx. 1 hour |
| Anaesthesia: | general anaesthetic |
| Hospital stay: | outpatient or 1 day stationary |
| Removal of sutures: | not necessary |
| Sports: | after approx. 4 weeks |
| Costs: | from CHF 7.500 |
Who might benefit from breast augmentation surgery?
---
Breast augmentation procedures are a particular focus of Dr Kiermeir's work. Modern medicine has developed a variety of methods to help women who are unhappy with the shape or size of their bust. Large, plump breasts have always been considered a central symbol of femininity and attractiveness. However, life events such as pregnancies and weight changes can permanently alter the shape of a woman's breasts, potentially affecting how happy she feels in her body. In this case, it's well worth considering the option of breast augmentation. Most women who feel unhappy with their bust opt for a moderate augmentation.
Such results can be achieved through surgical fat transfer or insertion of silicone implants, which come in a range of shapes and sizes. As a general rule, women choose a procedure to augment their breasts by up to two cup sizes; this moderate scope ensures that the silicone not only looks attractive but also feels natural to the touch. The issue of which method can best achieve your desired results will be discussed in detail in a consultation meeting. In this appointment, we explore and discuss the patient's individual requirements and examine whether their preconceptions are medically feasible.
Frequently asked questions on breast augmentation
What will I find out in the consultation meeting?
Before every breast operation, we provide an in-depth, non-binding consultation meeting which is free of charge to the potential patient. In this meeting, the doctor draws up an individual solution that takes into account the patient's specific wishes and examines whether their physique would accommodate silicone breast implants. Our state-of-the-art 3D technology allows us to create striking simulations of how the bust will look after the operation.
Yet even before this meeting, you can use the Crisalix app and three photos to explore the potential shape and size of your bust after treatment. However, you'll get the first entirely realistic and precise notion of your potential results when we use a 3D camera during an intensive consultation at our clinic in Bern.
What does a breast augmentation procedure involve?
If you opt for breast augmentation using implants, the surgeon inserts these in a roughly one-hour procedure performed under general anaesthetic. We perform the majority of procedures on an outpatient basis in our modern clinic in Bern. However, if you would prefer inpatient treatment, you'll stay in our practice for one night. The surgery creates small scars of a few centimetres in length which are usually hidden in the crease beneath the breast – and are therefore barely visible.
However, it's also possible to make the incision in the armpit around the edge of the areola. The surgeon then inserts the implant under the chest muscle or beneath the mammary gland. As for the issue of which method would be best suited to achieving your results, Dr Kiermeir will take into account every aspect of your personal physique in a detailed discussion.
What happens after breast augmentation surgery?
We don't put surgical drains in place for outpatient procedures. If you decide to stay in our clinic overnight, surgical drains are inserted after the operation and removed before you leave us the next day. After three days, you'll be able to shower again as normal. In the first four weeks after treatment, you should avoid any physical exertion that would strain your chest and wear a sports bra 24 hours a day. It's possible that post-operative pain continues for around a week after the surgery, though this can be effectively treated with common painkillers.
The procedure results in mild swelling which usually subsides within 7–10 days. The sutures dissolve of their own accord, and therefore don't need to be removed. Surgical scars redden for approx. 3–6 months before fading over time to the point where they're barely visible to the naked eye. Until the scars have fully healed, it's important to care for them diligently with scar creams and protect them with sun screen – including under a bikini in summer.
What potential complications could occur in a breast augmentation?
In extremely rare cases – around 1% of all breast operations – patients experience secondary haemorrhaging and infections. Some 3–4% of breast surgeries see problems relating to scarring. If a patient's breasts were asymmetrical before the procedure, such effects may even be amplified in some instances. In very rare cases, the breast implants shift out of position and require a further operation to correct their location in the breast.
We exclusively use top-quality implants made of cohesive silicone gel and produced by renowned manufacturers. In selecting breast implants, we place high requirements on their quality, safety, aesthetics and feel to the touch. The implants we use are completely leak-proof and don't need to be replaced after 10 or 15 years – as used to be the case. Some manufacturers even provide a lifetime guarantee for added peace of mind.
What do I need to consider after breast augmentation surgery?
After the operation to enhance your bust, you should refrain from office work for one week. You can then take up exercise again around 3–4 weeks after the procedure.
After only a few months, you'll be able to enjoy the final, transformative results of the augmentation procedure.
Is breast augmentation using lipofilling suitable for me?
In principle, a breast augmentation procedure using fat transfers would be ideally suited to women with stubborn fat deposits who also want to enlarge their breasts. A fat transfer, also known as lipofilling, is an operation composed of two parts: extraction of the fat using the water-jet-assisted liposuction technique, which is kind to body tissues and cells, and subsequent injection of this fat tissue at the desired locations. To ensure that as many fat cells as possible survive, it's crucial that the fat is extracted with as little suction power as possible. What's more, during lipoinfiltration, the surgeon should make sure to inject the fat cells in a fan-like shape, in narrow tunnels and in tissue with good circulation using a small, blunt cannula.
It's important to protect the breast and thereby also the chest muscles for around 4 weeks after the operation. You should avoid wearing sports bras in the first 4 weeks after the operation, as this places considerable pressure on the fat cells. You'll be able to see the final results after around 3 months. In the interim, some of the injected fat tissue will be resorbed by the body. Exactly how many fat cells survive depends on a range of factors, not least the surgeon's skill, the technique they use and patient compliance, but also various other aspects we don't yet fully understand. In our clinic in Spiegel, Bern, we use state-of-the-art techniques and can look back on 10 years of experience performing lipofilling procedures.
What do the results of breast augmentation surgery look like?
Implants can help you to achieve a bust that not only looks plump and is natural in shape, but also feels just as good to the touch even after an augmentation procedure.
How much does breast augmentation cost?
The cost of breast augmentation is CHF 7,500.00. This figure may rise depending on the scope and complexity of the operation, and whether it is performed on an inpatient or outpatient basis.
All of our prices are all-inclusive – that is to say, they include all necessary substances and materials, such as bras, medications, scar creams and the like, and also cover all post-operation check-ups.
Opening hours
| | |
| --- | --- |
| Monday | 8.00 a.m. - 5.30 p.m. |
| Tuesday | 8.00 a.m. - 5.30 p.m. |
| Wednesday | 8.00 a.m. - 5.30 p.m. |
| Thursday | 8.00 a.m. - 5.30 p.m. |
| Friday | 8.00 a.m. - 5.30 p.m. |
and by appointment