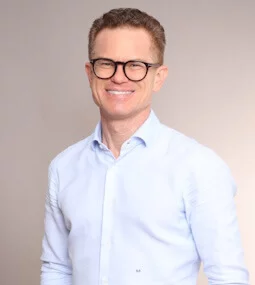 Dr. med. David Kiermeir
Specialist for plastic, reconstructive and aesthetic surgery (FMH)
more than 15 years of surgical experience

since 12 years exclusively active in the field of plastic and aesthetic surgery

over 6,000 performed surgeries
Facts on thread lifting
| | |
| --- | --- |
| Treatment duration: | approx. 30 minutes |
| Anaesthesia: | local anaesthetic / twilight sleep |
| Hospital stay: | outpatient |
| Removal of sutures: | not necessary |
| Sports: | after approx. 1 week |
| Costs: | from CHF 1.200 |
As our skin loses its elasticity and suppleness over the years, the first wrinkles soon begin to form. Parts of our skin begin to slacken and even droop. Constant exposure to UV radiation and other environmental influences further accelerates the natural ageing process – which represents another major burden for those affected.
Thread lifting makes it possible to counter unwanted signs of ageing quickly, achieving lasting results in doing so. This wrinkle treatment tautens and visibly lifts facial skin using absorbable sutures, leaving the patient's face refreshed and rejuvenated.
How does thread lifting work?
Thread lifting is a minimally invasive, gentle form of wrinkle treatment. This treatment method uses absorbable sutures, which are inserted in skin tissue to smooth out slackened areas of skin and lift them in places. Not only does a thread lift leave the face refreshed and revitalised, it can also precisely tone facial contours.
In contrast to other wrinkle treatment methods, thread lifting goes beyond merely tautening facial skin: the sutures used also initiate the body's own collagen production function. This makes it possible to achieve a long-lasting and, above all, natural-looking treatment result. The patient's face is left rejuvenated and refreshed, results which are sure to last.
Thread lifting is a particularly effective wrinkle treatment for the face and neck areas. What's more, a thread lift can also durably tauten skin in the décolleté area. Over time, practitioners have started to use thread lifts to treat other areas, such as to tauten skin in the breast, bottom, abdomen and upper arms.
The thread lifting procedure
A variety of treatment techniques and suture types are used in thread lifting, which makes it possible to tailor the treatment to each individual patient's requirements. Dr Kiermeir discusses the precise treatment procedure with the patient ahead of time here in Bern. In a personal consultation appointment, he asks the patient about their specific wishes, examines their current condition and describes potential treatment options. He then works with the patient to define a treatment plan.
Thread lifting is an outpatient procedure which, depending on the complexity involved, usually takes about an hour. As a rule, local anaesthetic is sufficient for the treatment. After preparing the skin, Dr Kiermeir starts to apply the sutures. He uses particularly fine needles to do this in order to make the treatment as pleasant as possible for the patient and so as not to unduly damage their skin. No other surgical instruments are required.
Patients can leave our clinic in Bern as soon as the thread lift has been completed. Due to the gentle nature of the treatment, patients don't need any time to recover and aren't restricted in their daily routine. While some minor bruising may form around the puncture sites, these are easy to hide with make-up. The sutures used in the treatment are gradually broken down by the body, and so don't need to be surgically removed.
What type of sutures are used in a thread lift?
Thread lifting uses suture materials (threads) of the highest quality which have been used in surgery for a long time now. This ensures a maximum degree of safety and treatment quality. These sutures are 100% absorbable – meaning they can be broken down entirely by the human body.
Due to their high degree of tolerability, the risk of complications in thread lifting is very low. This is what sets today's modern suture materials apart from the so-called 'gold thread' used for thread lifts in the past. As well as tautening the skin directly, modern-day thread lifts also trigger the skin's in-built regenerative processes. This means the treatment's effects are twofold. The results of a thread lift last for up to 2 years.
Frequently asked questions on thread lifting
How long do the effects of a thread lift last?
The sutures used in a thread lift break down of their own accord over the course of a year or so. As a result, the results of a thread lift begin to fade after 1–2 years – though the treatment can easily be repeated as required.
We perform thread lifting under local anaesthetic, meaning that patients will feel no pain during the treatment itself. Even after the treatment, patients will feel very minor pain at most, and cooling the affected area is usually an effective remedy.
How many threads are used in a thread lift treatment?
Exactly how many threads are used in a thread lift depends on the area to be treated and the degree to which the skin has slackened. On average, 2–4 threads are sutured into each side of the face in a cheek-tautening treatment. Around one thread per side is needed to lift a person's brows.
Does thread lifting entail risks?
This minimally invasive method generally doesn't entail any risks. While it's possible that slight redness or bruising may develop in some cases, such symptoms recede of their own accord within a matter of hours or days. As the sutures are all absorbable, intolerance reactions are extremely rare.
Opening hours
| | |
| --- | --- |
| Monday | 8.00 a.m. - 5.30 p.m. |
| Tuesday | 8.00 a.m. - 5.30 p.m. |
| Wednesday | 8.00 a.m. - 5.30 p.m. |
| Thursday | 8.00 a.m. - 5.30 p.m. |
| Friday | 8.00 a.m. - 5.30 p.m. |
and by appointment