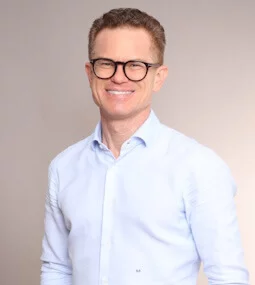 Dr. med. David Kiermeir
Specialist for plastic, reconstructive and aesthetic surgery (FMH)
more than 15 years of surgical experience

since 12 years exclusively active in the field of plastic and aesthetic surgery

over 6,000 performed surgeries
Facts on chin augmentation
| | |
| --- | --- |
| Treatment duration: | 30 - 120 minutes |
| Anaesthesia: | local or general anaesthetic |
| Hospital stay: | not necessary, with general anaesthetic 1 - 2 days |
| Removal of sutures: | after one week |
| Sports: | after approx. 6 weeks |
A protruding or receding chin is often very troubling for the person affected. More than simply being regarded as an unwanted flaw, an unusual or striking chin shape can disrupt the harmony of the face as a whole. A chin correction procedure is a delicate treatment to adjust the shape of a person's chin. It restores aesthetic, well-proportioned contours to the face.
Chin correction treatment is not only suitable for patients with a protruding or receding chin, but can also provide long-needed relief to patients with a double chin. Depending on a patient's individual situation, the surgery can either reduce the size of a chin or use implants to visually augment it.
Before the chin correction
In the majority of cases, chin correction is a straightforward procedure – though it does require meticulous planning. Some circumstances may necessitate interdisciplinary examinations, such as checks with a dentist or oral surgeon. What exactly the procedure involves and the form of treatment best suited to your situation are matters Dr Kiermeir will explain in a personal consultation in Bern.
In the preliminary examination, Dr Kiermeir will also ask about any existing conditions or risk factors which could impact the chin correction. Some pre-existing conditions could preclude use of a general anaesthetic. In this case, Dr Kiermeir will discuss potential alternatives with you.
Before the procedure, you'll be given various instructions that should help to ensure the surgery goes without a hitch. You should also avoid consuming large quantities of alcohol or nicotine in the two weeks before the procedure, and should also avoid taking any blood-thinning medication. However, chin correction surgery doesn't require any specific preparation.
The chin correction procedure
We usually carry out chin correction as an outpatient procedure under local anaesthetic in Bern. Depending on the expense involved and surgical technique selected, a general anaesthetic may be necessary. The entire surgery takes between 30 and 120 minutes.
To perform a chin augmentation, Dr Kiermeir generally uses implants made from either artificial or endogenous materials. He inserts the implant in the desired location via a small incision inside the mouth or below the chin. Other treatment methods could be considered in specific cases, such as a jaw realignment or a controlled jawbone separation. However, these methods are considerably more complex and risky, which is why implants are the more favoured chin augmentation method.
In a chin reduction procedure, the jaw is either abraded or shifted backwards in its entirety. To do this, part of the mandible is removed before the bone is fixed in place with screws. The required incisions are made in an inconspicuous location in the patient's mouth or under their chin.
An outpatient procedure is normally sufficient to remedy a double chin. In this case, Dr Kiermeir performs liposuction and removes any excess skin. Incisions are also made in inconspicuous locations, such as under the patient's chin or behind their ears.
After the chin correction
Patients are normally able to leave our clinic in Bern the same day as a chin correction when performed under local anaesthetic. Procedures carried out under general anaesthetic usually require a one or two-night inpatient stay. The chin area should be protected and cooled at first. If incisions were made in the patient's mouth, diligent oral hygiene is particularly important to prevent infections. You should also avoid sport for the first few weeks.
The sutures are removed around a week after the chin correction. You'll be able to go about your professional duties as normal after just a few days. Depending on the treatment method used, it could take 1–2 weeks before the results are fully presentable.
Frequently asked questions on chin correction
What risks does chin correction surgery involve?
Following the procedure, patients may experience temporary side effects such as bleeding, sensory disturbances or inflammations. Occasionally, patients find that the implant has slipped out of the intended position. In this case, a second procedure may be required to correct the displacement.
What results can a chin correction achieve?
A chin correction procedure can be used to reduce the size of a protruding chin or make a receding chin more prominent. In doing so, the patient's facial contours are brought into harmony. A chin correction can remedy a double chin, affording the patient's face a slimmer, younger-looking shape.
What are the potential side effects of chin correction surgery?
Swelling and bruising can sometimes develop for a short time following the procedure. However, such symptoms usually dissipate quickly when the area is cooled.
Does the operation leave behind visible scars?
In chin correction surgery, only small incisions are made in inconspicuous locations. As a result, the procedure doesn't result in obvious scarring.
Opening hours
| | |
| --- | --- |
| Monday | 8.00 a.m. - 5.30 p.m. |
| Tuesday | 8.00 a.m. - 5.30 p.m. |
| Wednesday | 8.00 a.m. - 5.30 p.m. |
| Thursday | 8.00 a.m. - 5.30 p.m. |
| Friday | 8.00 a.m. - 5.30 p.m. |
and by appointment