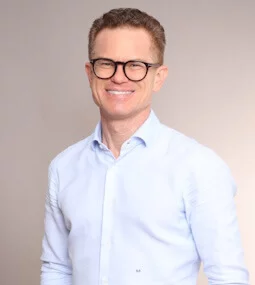 Dr. med. David Kiermeir
Specialist for plastic, reconstructive and aesthetic surgery (FMH)
more than 15 years of surgical experience

since 12 years exclusively active in the field of plastic and aesthetic surgery

over 6,000 performed surgeries
Facts on Vampire Lifting
| | |
| --- | --- |
| Treatment duration: | approx. 20 minutes per session (eventually more than one session necessary) |
| Anaesthesia: | none / local anaesthetic with cream possible |
| Hospital stay: | outpatient |
| Sports: | after 24 hours |
| Costs: | CHF 1.500 (3 treatments) |
As our age begins to show, many of us look for a gentle skin rejuvenation treatment. In this case, a vampire lift could be the perfect solution. This innovative anti-ageing treatment uses autohaemotherapy to stimulate skin cell formation and regenerate skin tissues. It leaves the patient's face rejuvenated and refreshed – without the need for surgery.
How does a vampire lift work?
The vampire lift technique is also known as autohaemotherapy or PRP therapy (in which the letters stand for platelet-rich plasma). This minimally invasive procedure involves extracting platelet-rich plasma from the patient's blood, preparing it and subsequently injecting it into their skin. The growth factors contained in this plasma stimulate the skin's regeneration function while promoting cell renewal.
Vampire lifts were first performed in the USA, where it is a particularly popular procedure among celebrities and stars. However, this treatment is also an excellent option for private patients as it sustainably enhances the structure of their skin without the need for surgery.
An autohaemotherapy session only takes around 20 minutes, but should be repeated several times to achieve visible effects. We usually recommend that patients undergo up to four treatments at 3–4 week intervals. Exactly how many sessions would be required in your individual case depends on your requirements and how your body reacts to vampire lift treatment.
The vampire lift procedure
Before performing the treatment, Dr Kiermeir holds a personal consultation with the patient in Bern. In this meeting, he details the potential outcomes of autohaemotherapy, and explains precisely what the treatment involves. The patient also has the opportunity to ask any questions they might have about PRP therapy.
Before the vampire lift itself, blood is taken from one of the patient's veins and the plasma is duly prepared. Dr Kiermeir then uses fine needles to inject the plasma fluid into the subcutaneous tissue. Autohaemotherapy uses various special techniques in order to achieve optimal penetration in the skin.
Normally, a vampire lift is a near painless procedure. However, if the patient or the area to be treated is particularly sensitive to pain, a local anaesthetic can be administered as required. To do this, Dr Kiermeir applies numbing creams or cools the area to be treated to reduce its sensitivity to pain.
The treatment itself only takes 20 minutes, and the patient can leave our clinic in Bern straight away without any restrictions on their daily routine. The first treatment results should become visible after just a few days. Repeating the treatment helps to maintain the rejuvenating effects of vampire lifting, ideally helping the outcome to last for several years.
Benefits of autohaemotherapy
A vampire lift is a particularly suitable choice for patients hoping to rejuvenate their complexion for the long term without undergoing surgery. This gentle procedure uses natural filling material to smooth out small wrinkles. And, as autohaemotherapy exclusively uses blood plasma from the patient's own body, there's no risk of rejection reactions.
The treatment is performed without making any incisions, which means it doesn't leave behind any scars. After the procedure, the only side effect may be slight swelling, though this will recede of its own accord within a matter of days.
Frequently asked questions on vampire lifting
Opening hours
| | |
| --- | --- |
| Monday | 8.00 a.m. - 5.30 p.m. |
| Tuesday | 8.00 a.m. - 5.30 p.m. |
| Wednesday | 8.00 a.m. - 5.30 p.m. |
| Thursday | 8.00 a.m. - 5.30 p.m. |
| Friday | 8.00 a.m. - 5.30 p.m. |
and by appointment