Buttock augmentation in Bern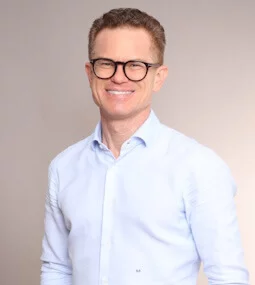 Dr. med. David Kiermeir
Specialist for plastic, reconstructive and aesthetic surgery (FMH)
more than 15 years of surgical experience

since 12 years exclusively active in the field of plastic and aesthetic surgery

over 6,000 performed surgeries
Facts on buttock augmentation
| | |
| --- | --- |
| Treatment method: | buttock augmentation with own body fat |
| Treatment duration: | approx. 3 - 5 hours |
| Anaesthesia: | local anaesthetic and twilight sleep |
| Hospital stay: | outpatient |
| Sports: | after approx. 4 weeks |
| Costs: | CHF 12.000 |
A shapely behind can go a long way to helping a person feel their body is aesthetic and attractive. As fat deposits form and our skin becomes slacker as we grow older, it's common for a person's self-confidence to suffer as a result. For many women, an undersized bottom can also be troublesome as they might perceive it as less feminine. Buttock augmentation can be a lasting remedy to such issues.
An augmentation treatment using the patient's own body fat is an aesthetic-surgical procedure in which the patient's own fat cells are used to reshape their behind. A buttock lift leaves the tissues tauter and firmer, which any unwanted dents or dimples are smoothed out. Dr Kiermeir extracts fat tissue to use as fillers from the patient's own fat deposits – an added benefit, as the procedure thereby enhances typical problem areas.
Before the buttock augmentation
The precise procedure used to augment or lift the buttocks differs from one patient to the next. The scope of treatment also varies in each case depending on the patient's individual wishes. In a one-to-one consultation in Bern, Dr Kiermeir advises the patient on suitable treatments open to them. He documents the patient's current situation and, from there, creates a precise treatment plan.
The treatment itself takes between 3–5 hours depending on its scope. This timeframe includes both collection of fat tissues from the patient and the bottom augmentation or buttock lift.
The buttock enhancement procedure
We predominantly perform bottom augmentation and buttock lifting procedures on an outpatient basis here in Bern. In most cases, a local anaesthetic is quite sufficient. If the patient wishes, we can administer a twilight sedative to perform a buttock lift so that the patient isn't aware of the procedure being carried out. In the case of a buttock augmentation performed under local anaesthetic, the patient can leave our clinic the same day.
In the first stage of treatment, Dr Kiermeir removes fat tissue from the patient's own fat deposits. In doing so, he usually sources tissues from typical 'problem areas' such as the patient's waist, abdomen and thighs. The extracted tissue is then prepared using lab techniques before being injected into the patient's buttocks using fine cannulas. Tiny incisions are made in the skin to insert the cannulas, though these wounds heal almost completely scar-free.
Dr Kiermeir uses live fat cells to perform the buttock augmentation; these cells go on to join together with existing cells. This method makes it possible to achieve long-lasting, sustainable results. The fat cells are distributed evenly in several layers. Following the procedure, a second buttock augmentation may be carried out to enhance the results of the first treatment.
After the buttock augmentation
After a procedure to augment or lift a patient's buttocks, special care should be taken at first to look after the treated areas. To ensure that fat cells integrate into their new location without complications, you should wear compression clothing as much as possible for the first 3–6 weeks. Doing so supports the behind and promotes optimal treatment results. In the weeks after the procedure, we recommend that patients shift their weight onto their thighs and the lower part of their buttocks when sitting down.
While localised swelling may develop shortly after the procedure, this will usually recede of its own accord. Normally, no specific aftercare routine is required. If you do experience some slight pain following a buttock augmentation, you can take standard painkillers as you wish.
The healing process takes a total of around three months. By this point, the injected fat cells will have integrated into the surrounding tissue and will no longer be broken down by the body. Dr Kiermeir carries out a follow-up examination to monitor the proportion of surviving transplanted fat cells, and then plans a further treatment for the patient if required.
Frequently asked questions on buttock augmentation
Opening hours
| | |
| --- | --- |
| Monday | 8.00 a.m. - 5.30 p.m. |
| Tuesday | 8.00 a.m. - 5.30 p.m. |
| Wednesday | 8.00 a.m. - 5.30 p.m. |
| Thursday | 8.00 a.m. - 5.30 p.m. |
| Friday | 8.00 a.m. - 5.30 p.m. |
and by appointment