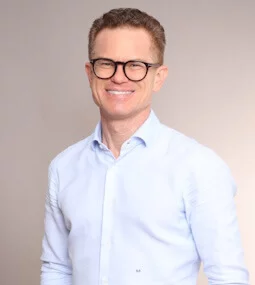 Dr. med. David Kiermeir
Specialist for plastic, reconstructive and aesthetic surgery (FMH)
more than 15 years of surgical experience

since 12 years exclusively active in the field of plastic and aesthetic surgery

over 6,000 performed surgeries
Facts on ear pinning
Minimum age:
from approx. 6 years
Treatment duration:
1 - 2 hours
Anaesthesia:
local or general anaesthetic
Hospital stay:
outpatient
Removal of sutures:
after approx. 10 days
Sports:
after approx. 4 weeks
Costs:
CHF 6.000 for both sides
Children with protruding ears are often victims of taunting and teasing. Many children affected suffer considerably as a result of these disparaging comments – an experience that can also impact on their later lives. However, surgical ear pinning (also known as otoplasty) provides a lasting solution to this beauty flaw.
Ear correction procedures can be performed on adults and children alike. However, for the sake of the affected child's well-being, it's best to have their ears pinned before they start school if at all possible. Otoplasty is now a routine procedure in aesthetic surgery and, generally speaking, is a low-risk procedure.
How does otoplasty work?
Protruding ears usually develop as a result of deformed cartilage tissue. While this deformed tissue doesn't impact on the person's ability to hear, their ears do stick out further than usual. Furthermore, the main fold in the ear muscle of people with 'jug ears' is often not as pronounced as it should be. As a result, their ears don't lie as close to their head as other peoples' do.
The aim of ear pinning is to correct this deformity by operative means. To do so, Dr Kiermeir remodels the deformed cartilage and removes any excess tissues. He then performs the actual ear correction by suturing the ear muscle more closely to the head. At present, ear pinning is the only form of ear correction that remedies protruding ears with lasting results.
The ear pinning procedure
Ear pinning is a relatively straightforward procedure that lasts around 1–2 hours in total. Here in Bern, we usually perform the treatment under local anaesthetic. In some cases involving children, it may be sensible to perform the treatment under general anaesthetic. Dr Kiermeir will answer any queries you might have about anaesthesia and the procedure itself in a personal consultation held in Bern prior to the surgery.
In surgical ear correction, the first stage is to expose the cartilage on the back of the ear muscle. Dr Kiermeir then shapes this cartilage tissue as required, removing any excess cartilage in doing so. In the final treatment step, he fixes the muscle in its final position using a small number of sutures. The surgical wound is also sutured and a bandage applied.
Following ear correction surgery, patients can usually leave our clinic in Bern the same day. A short inpatient stay is only necessary if the ear pinning procedure is performed under general anaesthetic. Patients need to protect their ears in the days following the operation by wearing a head dressing to ensure that the wounds heal properly. The sutures are removed after around 10 days, at which point the patient is fully presentable again.
Frequently asked questions on ear pinning
What do I need to consider before otoplasty?
Before having your ears pinned, you should temporarily stop taking any medication containing acetylsalicylic acid. This substance can impair blood coagulation and may give rise to secondary haemorrhaging. Dr Kiermeir will give you details of other instructions in a patient consultation in Bern. However, no specific preparation is required for ear pinning.
Are there risks in ear pinning?
As with all surgical procedures, ear correction surgery does entail certain risks when carried out under general anaesthetic. For example, the patient may experience intolerance reactions against certain anaesthetic agents. You should therefore inform Dr Kiermeir in advance of any intolerances or existing conditions. In general, though, ear pinning is a low-risk procedure when performed under strict hygiene standards by an experienced professional like Dr Kiermeir.
What are the potential side effects of the surgery?
In the first few days following the procedure, patients may experience slight pain or bruising in the treated areas. The ears may also be sensitive to the touch at first. However, such complaints usually dissipate on their own as the wounds heal.
Does otoplasty leave behind scars?
Ear correction surgery doesn't usually leave behind any visible scars. The surgical incisions are made in an inconspicuous place behind the ear muscle.
Opening hours
| | |
| --- | --- |
| Monday | 8.00 a.m. - 5.30 p.m. |
| Tuesday | 8.00 a.m. - 5.30 p.m. |
| Wednesday | 8.00 a.m. - 5.30 p.m. |
| Thursday | 8.00 a.m. - 5.30 p.m. |
| Friday | 8.00 a.m. - 5.30 p.m. |
and by appointment