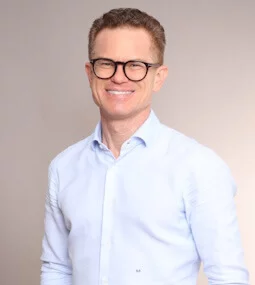 Dr. med. David Kiermeir
Specialist for plastic, reconstructive and aesthetic surgery (FMH)
more than 15 years of surgical experience

since 12 years exclusively active in the field of plastic and aesthetic surgery

over 6,000 performed surgeries
Facts on breast implants
| | |
| --- | --- |
| Implant models: | round implants, anatomical implants |
| Implant size: | depending on individual conditions |
| Implant shell: | smooth or roughened surface structure |
| Implant filling: | sodium chloride or silicone |
Every woman is unique and has her own personal wishes. Accordingly, we have a wide range of breast implants for patients to choose from. Breast implants are composed of a silicone casing filled with either silicone gel or a saline solution. They can be round or 'anatomical' in shape, with either a smooth or textured (rough) surface, and are available in a whole host of shapes and sizes. This array of options makes it possible to achieve your desired results. In a personal consultation here in Bern, we'll explain precisely what breast implants involve and support you in selecting the right model for you.
Various factors need to be considered when selecting a suitable implant, including:
Frequently asked questions on breast implants
Silicone gel breast implants have been a source of constant discussion in recent years. As a result, it's important to clarify a few aspects. Firstly, following heated public debate, silicone breast implants were temporarily removed from the market in the USA in 1992. Claims were filed in an attempt to connect silicone breast implants with a whole host of illness symptoms and conditions. As a result, a series of major studies were initiated involving over 70,000 patients in order to investigate the safety of these breast implants.
In recent years, there has been considerable progress in breast implant development – to the point where they simply can't be compared with earlier generations in terms of their quality, durability, safety, shape and range. So-called cohesive gels are one example of the significant improvements made. These gels possess a structure that prevents the gel from spreading out and helps the implant keep its shape better, while still feeling natural.
If you were to slice one of these implants in half, for example, the gel components in the two halves wouldn't melt away but would instead remain in their respective half and retain their shape. As a result, the likelihood that silicone gel would leak out into the surrounding tissue if the implant is damaged is considerably reduced.
Opening hours
| | |
| --- | --- |
| Monday | 8.00 a.m. - 5.30 p.m. |
| Tuesday | 8.00 a.m. - 5.30 p.m. |
| Wednesday | 8.00 a.m. - 5.30 p.m. |
| Thursday | 8.00 a.m. - 5.30 p.m. |
| Friday | 8.00 a.m. - 5.30 p.m. |
and by appointment