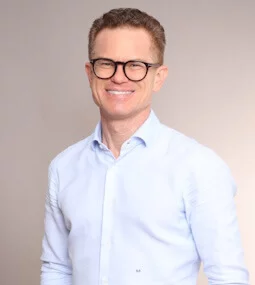 Dr. med. David Kiermeir
Specialist for plastic, reconstructive and aesthetic surgery (FMH)
more than 15 years of surgical experience

since 12 years exclusively active in the field of plastic and aesthetic surgery

over 6,000 performed surgeries
Facts on facelifting
| | |
| --- | --- |
| Treatment duration: | 2 - 5 hours (depending on extent) |
| Anaesthesia: | general anaesthetic or twilight sleep |
| Hospital stay: | 1 - 2 days |
| Removal of sutures: | after 7 days (sutures on the ear) / after 10 days (skin clips) |
| Sports: | after 4 - 6 weeks |
| Costs: | CHF 15.000 (in high lateral SMAS technique) |
Look 10 years younger after a facelift
---
We all develop more and more wrinkles as time goes by. The lower parts of a person's cheeks and their neck are often the worst affected areas. To find the right treatment to help you counter these changes, it's important to start with an in-depth analysis.
At first, we'll investigate whether it's simply the skin slackening, or whether the underlying tissues and facial muscles are also affected by this degeneration. Then, on the basis of the examination results, we can consider which techniques would achieve the desired results.
Frequently asked questions on facelift
What techniques are used in a facelift?
Modern-day operating techniques treat both the connective tissues directly beneath the skin and the facial muscles by tautening these areas. This allows us to achieve a very natural-looking facial rejuvenating effect.
To prevent beauty-enhancing operations from creating visible scars (as far as possible), an incision is usually made in the scalp around the ear in a place where it will later be covered by the patient's hair.
After tightening the lower layers, excess skin can be removed from the affected regions without undue tension and stress being applied to the scar. There's also the option to combine a facelift with other treatments and procedures. For instance, it could be performed together with plastic surgery on the eyelid (known as blepharoplasty) or in tandem with an Obagi Blue Peel, which enhances the outer surface of the skin.
What results can a facelift achieve?
A successful operation leaves the patient's face looking 10 years younger – without affecting their facial expressions. Often, rejuvenating a person's outer appearance markedly boosts their inner self-confidence and zest for life.
Facelifts can be carried out at any age and are simply based on the individual patient's wishes. Plus, as the ageing process will continue after the facelift, a second procedure can be carried out without any issues after 10–15 years.
How long does a facelift take, and what are the risks involved?
An operation of this type takes 2–5 hours depending on the scope involved. In this regard, you can choose between a mini-facelift (approx. 2 hours) and a full facelift (min. 4 hours). What's more, there are other procedures that can be sensible – and sometimes necessary – to combine with a facelift to achieve exceptional results, such as a fat transfer. Doing so also returns lost volume to a patient's face and enhances their skin texture and skin tissue structure by injecting stem cells. Such additional treatments can extend the procedure by 1–2 hours.
As with all operations, rare cases see infections or secondary haemorrhages. Wound healing deficits and issues with scar healing are other rare complications. In extremely rare cases, the surgery can cause nerve damage – though this can usually be rectified. After the surgery, you should avoid any strenuous physical activities for at least 4 weeks and take a two-week leave of absence from work.
What does a facelift involve?
The operation usually includes a 1–2 day stay here in our clinic in Bern and is performed under general anaesthetic or twilight sedation. We remove any surgical drains and bandages before you leave the clinic. After about a week, the sutures around your ear will be removed, while the metal clips in the part of your scalp covered by your hair will be removed after around 10 days.
How often can facelifts be carried out?
Theoretically, facelifts can be performed as often as a patient wishes. The scars will always stay the same size and won't get any bigger – plus, subsequent operations can work at the same levels as past ones. This all means that there are no actual restrictions in terms of the number of facelifts a person can undergo. However, we would recommend having as few facelifts as possible, each achieving the best possible outcome. These operations might take a bit longer and be somewhat more complex, but you'll also be able to enjoy the benefits for longer. On average, an effective, properly performed facelift using proven techniques leaves the patient's face looking around 10 years younger – and these results are long-lasting. One particularly effective technique used in facelifts is called the high lateral SMAS technique. Of course, facelifts can't stop the natural ageing process. However, the operation's results are not reversible.
Who could benefit from a facelift?
It very much depends on the psychological strain a person is under. If they look in the mirror every day and are saddened by what they see – because they think "I'm so much fitter and younger than the person looking back at me" – then they should at least consider undergoing a facelift.
What are the benefits of a facelift compared to other facial rejuvenation methods?
We have a range of treatments at our disposal to slow down and even reverse the skin ageing process. At one end of the spectrum, we offer minimally invasive methods like Botox treatments, hyaluronic acid injections and thread lifting. These can be used to address various problem areas. However, when facial skin has slackened to a certain extent, it can be worth looking into surgical methods. In a single operation, a facelift can provide long-lasting benefits – and even permanent results, depending on the technique used – that can make patients look 5, 10 or even 15 years younger. The operation often achieves harmonious facial rejuvenation and remains the gold standard in this regard, producing the best results.
Who would be suited to a facelift?
People who have long been unhappy with how their facial skin is slackening, and who feel depressed by the image they see in the mirror – the image of a person who looks older than they feel – should consider undergoing a facelift. The best patients are the ones carrying a severe mental burden. Quite often, it's the case that significant weight loss or severe strokes of fate age a person's appearance rapidly in a short space of time. There are people who are unhappy with their situation, and who would like to undergo a facelift. In such cases, a facelift can do a lot of good and help to change the patient's life for the better.
Opening hours
| | |
| --- | --- |
| Monday | 8.00 a.m. - 5.30 p.m. |
| Tuesday | 8.00 a.m. - 5.30 p.m. |
| Wednesday | 8.00 a.m. - 5.30 p.m. |
| Thursday | 8.00 a.m. - 5.30 p.m. |
| Friday | 8.00 a.m. - 5.30 p.m. |
and by appointment