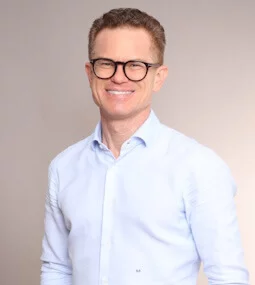 Dr. med. David Kiermeir
Specialist for plastic, reconstructive and aesthetic surgery (FMH)
more than 15 years of surgical experience

since 12 years exclusively active in the field of plastic and aesthetic surgery

over 6,000 performed surgeries
Pregnancy places considerable strain on the female body: not only do weight gain and other physical changes create new skin, the breastfeeding period can often leave behind unpleasant marks. The results include drooping breasts and a rather shapeless stomach burdened with stubborn fat deposits.
If you're finding it hard to regain your ideal body shape after childbirth, a Mommy Maker Over could be the ideal solution. We tailor the treatment to the individual needs of each and every patient, focusing our efforts on the areas where pregnancy has left its mark. A Mommy Maker Over primarily concentrates on typical post-pregnancy problem areas: the breasts, the abdominal region and unwanted fat deposits. The aim of the treatment is to help every single patient to regain an all-round sense of body confidence.
What is a Mommy Maker Over?
Many women find the lasting changes caused by pregnancy very troubling and are unable to reverse them completely – even with plenty of exercise and a disciplined diet. The great burden placed on a woman's body during pregnancy and the nursing phase makes it rather difficult to return the female body to its original shape and size, as skin and connective tissues are often permanently slackened.
A Mommy Maker Over treatment aims to surgically remedy any lasting marks and flaws following pregnancy. In the procedure, we remove excess skin from the breasts and abdomen, suck out excess fat tissue and, if necessary, slightly augment the breasts, leaving these typical problem areas looking taut, toned and youthful once again. Not only does it enhance a woman's wellness on a physical level, for many patients a Mommy Maker Over helps them to gain a new self of self-confidence.
Surgery to enhance the breasts, stomach and fat deposits
As pregnancy takes its toll on women in different ways, we create an individual treatment plan for each Mommy Maker Over procedure. Before the procedure, Dr Kiermeir discusses the potential treatment steps with the patient in a consultation in Bern. The treatment often comprises a breast lift which, if needed, may be combined with minor breast augmentation. Many patients benefit greatly from a breast lift after childbirth. During the nursing period, high demands are still placed on breast tissue, which often loses its firmness and changes shape as a result. In a breast lift, slackened tissue is repositioned and any excess skin is removed. Afterwards, the breasts appear toned and youthful once again.
In abdominoplasty, we also treat slackened skin to restore a sense of tautness and elasticity by surgically removing excess skin and fat tissue. In some cases, a Mommy Maker Over might also incorporate steps to tauten abdominal muscles to further enhance the treatment results. Dr Kiermeir also works to remedy unattractive Caesarean scars if these are particularly troubling for the patient.
Many new mothers find it difficult to shift stubborn fat deposits after pregnancy. If a woman is simply unable to get rid of fat deposits despite her best efforts, a Mommy Maker Over can be tailored to include additional liposuction. Liposuction returns an aesthetic shape to the patient's body and smooths out any unwanted bumps or folds.
Individual Mommy Maker Over planning
The steps involved in a Mommy Maker Over vary in each case. The scope of treatment and number of sessions required depend entirely on the new mother's individual requirements. In a consultation appointment here in Bern, Dr Kiermeir explains the treatments available as part of a Mommy Maker Over and works with the patient to create a treatment plan. They discuss every aspect face-to-face in a private, confidential environment.
Frequently asked questions on Mommy Maker Over
Are all treatments performed simultaneously in a Mommy Make Over?
That depends entirely on the woman's situation and the desired treatment objective. Generally speaking, most treatments can be combined in a single procedure – though they can also be split into two sessions. A key factor in this regard is the patient's physical condition, a matter which they should always discuss with the doctor treating them.
When is the best time for a Mommy Make Over?
In any case, it's important to wait until the mother has finished breastfeeding – as a breast lift, for example, would have little effect in this case. It's worth waiting at least 3–4 months after you finish breastfeeding, as only then will the body be fully recovered from the strain of pregnancy.
Is a Mommy Make Over painful?
Patients don't feel any pain during the surgery due to the anaesthetic and sedation administered. While you may well experience some pain following the Mommy Make Over procedure, such symptoms can usually be treated very effectively with common painkillers.
Opening hours
| | |
| --- | --- |
| Monday | 8.00 a.m. - 5.30 p.m. |
| Tuesday | 8.00 a.m. - 5.30 p.m. |
| Wednesday | 8.00 a.m. - 5.30 p.m. |
| Thursday | 8.00 a.m. - 5.30 p.m. |
| Friday | 8.00 a.m. - 5.30 p.m. |
and by appointment