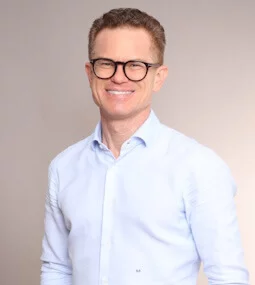 Dr. med. David Kiermeir
Specialist for plastic, reconstructive and aesthetic surgery (FMH)
more than 15 years of surgical experience

since 12 years exclusively active in the field of plastic and aesthetic surgery

over 6,000 performed surgeries
Facts on breast reduction
| | |
| --- | --- |
| Treatment duration: | approx. 2 - 3 hours |
| Anaesthesia: | general anaesthetic |
| Hospital stay: | 1 - 2 days |
| Removal of sutures: | not necessary |
| Sports: | after approx. 6 weeks |
| Costs: | CHF 13.000 |
When is breast reduction advisable?
---
If a woman's bust is too large, it can not only lead to pain in her shoulders and neck but also cause severe discomfort in the thoracic spine region. Furthermore, oversized breasts are a common trigger of psychological and social problems – though the condition can be effectively combated through breast reduction surgery.
In a procedure to reduce the size of a woman's breasts, glandular tissue is removed, the nipples are shifted upwards and a new breast shape is created in a 2–3 hour operation performed under general anaesthetic.
In addition to classic techniques with inverted T-shaped incisions, we also practice modern methods which result in a single straight scar.
The ultimate results of such operations become apparent after 6 to 12 months and last for at least 10 years. In the vast majority of cases, though, the transformation is permanent. Nevertheless, the natural ageing process can result in further changes to the breast.
Frequently asked questions on breast reduction
Opening hours
| | |
| --- | --- |
| Monday | 8.00 a.m. - 5.30 p.m. |
| Tuesday | 8.00 a.m. - 5.30 p.m. |
| Wednesday | 8.00 a.m. - 5.30 p.m. |
| Thursday | 8.00 a.m. - 5.30 p.m. |
| Friday | 8.00 a.m. - 5.30 p.m. |
and by appointment