Wrinkle treatment with hyaluronic acid in Bern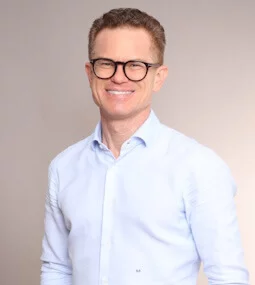 Dr. med. David Kiermeir
Specialist for plastic, reconstructive and aesthetic surgery (FMH)
more than 15 years of surgical experience

since 12 years exclusively active in the field of plastic and aesthetic surgery

over 6,000 performed surgeries
Facts on wrinkle treatment with hyaluronic acid
| | |
| --- | --- |
| Treatment duration: | approx. 20 - 90 minutes |
| Anaesthesia: | local anaesthetic |
| Hospital stay: | outpatient |
| Removal of sutures: | not necessary |
| Sports: | after 24 hours |
| Costs: | from CHF 450 |
Wrinkle treatments with hyaluronic acid are a gentle yet effective non-surgical means of treating facial wrinkles. In these treatments, the tautening effect is provided by so-called 'fillers'. These fillers plump up wrinkles in the skin, thereby ensuring a fresh appearance brimming with vitality.
Hyaluronic acid is usually the filler used to plump up the skin. This substance – which occurs naturally in the human body – is not only favoured due to its tolerability, but also because of the long-lasting results it delivers. The effects are visible immediately after the treatment.
How does hyaluronic acid work?
Hyaluronic acid occurs naturally in the human body. It forms part of the connective tissue and plays a key role in the natural structure of the skin. The hyaluronic acid used in plastic-aesthetic medicine is obtained through biotechnological processes, making intolerance reactions extremely rare.
The fillers we use in hyaluronic acid treatments are in gel form. Dr Kiermeir injects the fillers along folds and wrinkles in order to underpin these parts of the skin. The hyaluronic acid is gradually broken down by the body itself. This process begins around 5–8 months after the wrinkle treatment. To ensure the results last, a further wrinkle treatment can be carried out at a later date.
Potential wrinkle treatment areas
This wrinkle treatment is used above all in the lower half of the face. The treatment makes it possible to smooth out almost all wrinkles in the mouth and nose regions, including deeper, more prominent wrinkles such as marionette lines and nasolabial folds.
The wrinkle treatment procedure
Wrinkle treatments with fillers are straightforward procedures; here in Bern, we usually perform them on an outpatient basis. If the patient would prefer an anaesthetic, we can numb the corresponding part of the face with a special cream before the treatment. Dr Kiermeir then injects the fillers using a fine needle. These injections are virtually painless – patients usually only feel a slight pricking sensation.
You can then leave our clinic in Bern straight away and will be fully presentable again the following day. No follow-up treatments are required, though you should avoid strenuous sporting activities in the days following the procedure. Wrinkle treatments take between 20 and 90 minutes depending on their scope.
Frequently asked questions on wrinkle treatment with hyaluronic acid
Opening hours
| | |
| --- | --- |
| Monday | 8.00 a.m. - 5.30 p.m. |
| Tuesday | 8.00 a.m. - 5.30 p.m. |
| Wednesday | 8.00 a.m. - 5.30 p.m. |
| Thursday | 8.00 a.m. - 5.30 p.m. |
| Friday | 8.00 a.m. - 5.30 p.m. |
and by appointment