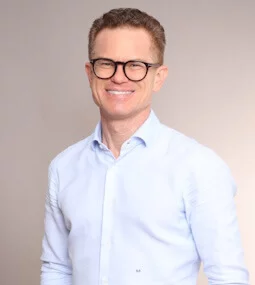 Dr. med. David Kiermeir
Specialist for plastic, reconstructive and aesthetic surgery (FMH)
more than 15 years of surgical experience

since 12 years exclusively active in the field of plastic and aesthetic surgery

over 6,000 performed surgeries
Facts on lip augmentation
| | |
| --- | --- |
| Treatment method: | operational or minimally invasive / with hyaluronic aid or body fat |
| Treatment duration: | depending on method and extent |
| Anaesthesia: | local anaesthetic |
| Hospital stay: | outpatient |
| Sports: | after 1 - 2 days |
| Costs: | from CHF 600 / 4.500 |
Our face has a decisive impact on how we're perceived by others. Along with our eyes, our lips are a key part of this. Ultimately, a shapely, well-contoured mouth has long been part of our society's ideal of beauty.
If a person's mouth is too narrow or appears severe, lip fillers are one potential method of achieving a more positive appearance. In this treatment, fillers are injected into the patient's lips to afford their mouth a more aesthetic shape. We either use hyaluronic acid or the patient's own body fat as fillers. The aim of this treatment is to create an attractive, natural-looking mouth that accentuates the patient's unique facial contours.
Who could benefit from lip fillers?
A lip correction procedure can be used to treat a variety of flaws and blemishes. Some patients want to have narrow lips plumped up; others find the shape of their mouth unattractive and want their lips to be shaped in greater harmony with their other facial features.
Yet lip fillers are also particularly well suited to combating natural signs of ageing, such as the corners of a person's mouth beginning to droop or wrinkles forming around their mouth. A lip correction procedure can accentuate both the shape and colour of a person's lips, leaving the mouth looking plumper and more attractive.
Lip fillers: advice and preparation
Before each treatment, Dr Kiermeir holds a one-to-one conversation with the patient in Bern. In this consultation, he delves into their individual wishes, explains the procedure and outlines the potential benefits of lip fillers.
Then, together with the patient, he works to create a specific treatment plan. This takes into account the patient's wishes on the one hand, and their unique facial features on the other, in order to ensure that the end result is aesthetic and looks natural.
The lip filler procedure
Lip fillers are usually injected in an outpatient procedure under local anaesthetic at our practice in Bern. The total duration of the treatment is around an hour, depending on its scope. The procedure's steps depend entirely on the treatment method used. If the lips are to be injected with the patient's own body fat, fat cells firstly need to be collected. To do so, Dr Kiermeir sources the cells from the patient's fat deposits. Obviously, treatments using hyaluronic acid don't include this step.
Then comes injection of the lip fillers: in this, Dr Kiermeir injects the fillers at precisely defined points using a fine needle. Various different techniques may be used to do this, depending on the desired lip shape and size. The injection sites feature holes that are so small, they heal without any visible scarring.
Following the treatment, the patient's lips will be slightly swollen at first. Slight bruises may form at the injection sites, though these will dissipate quickly on their own. You'll be fully presentable again after just a few days.
Fillers with hyaluronic acid or body fat?
We either use hyaluronic acid or the patient's own body fat as lip fillers. Dr Kiermeir discusses which filler is better suited to each patient's individual situation in a one-to-one consultation in Bern.
A lip treatment using the patient's own body can achieve long-lasting results as the fat cells combine with the lips' existing tissue. No regular follow-up appointments are necessary.
In the case of lip fillers using hyaluronic acid, on the other hand, Dr Kiermeir has a range of gels of differing consistencies to choose from. This makes it possible for him to model a patient's lips more precisely. However, hyaluronic acid is broken down by the body over time. As a result, we recommend that patients undergo a follow-up treatment after a few months.
Frequently asked questions on lip fillers
At least two or three sessions will be necessary to achieve a lasting result. You should aim to keep an interval of a few weeks between the individual sessions. However, you should discuss the precise intervals in your individual case with the doctor treating you, as intervals will increase over time.
Thanks to the local anaesthetic, patients feels no pain during the treatment itself. After the lip correction procedure, patients may experience a feeling of numbness or mild pain – though this can be effectively treated by cooling the area.
A lip correction can not be performed if an acute herpes infection is on hand. Patients who are easily prone to herpes can receive a medicinal prophylaxis three days before the treatment.
Opening hours
| | |
| --- | --- |
| Monday | 8.00 a.m. - 5.30 p.m. |
| Tuesday | 8.00 a.m. - 5.30 p.m. |
| Wednesday | 8.00 a.m. - 5.30 p.m. |
| Thursday | 8.00 a.m. - 5.30 p.m. |
| Friday | 8.00 a.m. - 5.30 p.m. |
and by appointment