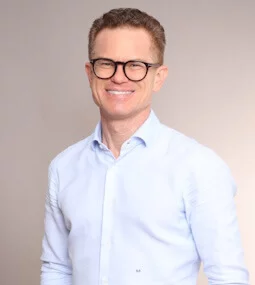 Dr. med. David Kiermeir
Specialist for plastic, reconstructive and aesthetic surgery (FMH)
more than 15 years of surgical experience

since 12 years exclusively active in the field of plastic and aesthetic surgery

over 6,000 performed surgeries
Facts on nose surgery
| | |
| --- | --- |
| Treatment duration: | 1 - 4 hours (depending on complexity) |
| Anaesthesia: | general anaesthetic / local anaesthetic / twilight sleep |
| Hospital stay: | 1 day |
| Removal of sutures: | after 4 - 6 days |
| Removal of plaster cast: | after approx. 1 week |
| Sports: | after 2 - 3 weeks |
| Costs: | from CHF 12.000 |
Look better and breathe easier after nose correction surgery
---
Very few parts of the body are afforded such significance and possess as many diverse attributes as the nose: a source of inspiration for painters and poets alike, it's also the focal point of countless pictures and illustrations, fairy tales and stories. A feature simultaneously admired and mocked, some even say that a nose betrays a lot about a person's character. And, as the nose is the central feature of a person's face, it plays a central role in our appearance. Yet from noses with noticeable humps to those with crooked ridges, and from celestial noses to hooked, beak-like noses, there are some nose shapes that we simply don't like. If a person's septum is misaligned, it can even impair their breathing – making this far more than merely an aesthetic problem.
Thanks to state-of-the-art techniques in aesthetic and plastic surgery, it's now possible to alter the shape of an individual's nose and tailor treatment according to the patient's wishes and ideas. By adjusting the shape and/or size of the nose, we not only enhance the patient's appearance but also bring a sense of harmony to their face as a whole. Rhinoplasty (the medical term for nose correction surgery) alters a patient's nose in accordance with their wishes and in a way that blends in harmoniously with the rest of the patient's face. This operation affords the nose a new shape, thereby altering the appearance of the face as a whole.
Rhinoplasty can correct a long or hooked nose, straighten a crooked nose, narrow a broad nose and fill in any indentations (such as a saddle nose). One of the most complex and demanding operations in aesthetic plastic surgery, rhinoplasty should only be performed by specialists with considerable experience in the field. Dr Kiermeir in Bern is one such specialist.
Generally speaking, nose correction procedures can only be performed after a person's body has finished growing and developing, i.e. from the age of 17 and over. Rhinoplasty offers a range of possible methods to correct a person's nose. Everyone's nose is different – and needs to be treated as such. Standard operations usually produce only moderate results, which is why it's important that the patient's ideas are carefully analysed and their anatomical proportions determined and considered.
Frequently asked questions on rhinoplasty
What does a rhinoplasty procedure involve?
The twilight sedative administered for the operation is complemented by an additional local anaesthetic; the surgery can alternatively be carried out under general anaesthetic.
The surgery can either be endoscopic (via the nostrils and without external incisions) or invasive in nature. In the case of the latter, the surgeon makes the necessary incisions in the bridge of the nose and the mucous membrane of the nasal vestibule, where they will not attract attention when healed. Then, the surgeon uses these incisions to introduce surgical instruments and remove soft tissues from the nose, thereby gaining access to the skeletal structure of the nose.
At this stage, any bony or cartilaginous parts of a hump in the nose are removed or reshaped as necessary to reduce the nose's size. If necessary, the surgeon can also carry out a nasal septum correction or reduce the size of the nasal wings after reducing the overall size of the nose. In rhinoplasty, the surgeon always elects to make incisions in a manner that creates as few external scars as possible. When the incisions have been sutured together, tamponades are inserted in the patient's nostrils and the bridge is secured with special plasters, a plaster cast and an acrylic pad, which stay in place for several weeks.
What do I need to consider after rhinoplasty?
Patients are usually ready to leave our clinic in Bern after an overnight stay. While the tamponades can be removed from the nostrils after 24 hours, the plaster cast protecting the nasal bones must be worn for a week. The sutures in the bridge of the nose are removed after 4 to 6 days. Any swelling that develops after the procedure will completely dissipate of its own accord within around 10 days.
However, depending on the thickness of the patient's skin, some patients may experience residual swelling for several months. Check-ups are held after 3 months to inspect the scarring, and after 6 and 9 months to monitor the final results.
It's important to take around 1–2 weeks off work to recover from a nose correction procedure and avoid strenuous physical activities for 2–3 weeks. You should also avoid unduly exposing the treated area to strong influences like direct sunlight or cold temperatures for around 2 months. After around a year, you'll be able to see the final, permanent results of the operation.
What are the potential complications in rhinoplasty?
As with any operation, surgical procedures on the nose can lead to bruising and infections. In rare cases, the sensitivity of the tip of the nose may be affected, a side effect which can last up to 8 weeks. Follow-up treatments are required in around 5–10% of cases due to overcorrection or undercorrection.
What nasal imperfections can rhinoplasty correct?
We can remedy almost all imperfections in a person's nose. The most common procedures we perform are profile corrections, removal of a hump in the bridge and surgery to correct and make the tip of a patient's nose more defined. It's also common for patients to want the tip of their nose lifted. Generally speaking, many women would like their nose to be somewhat smaller: a petite, dainty nose is in keeping with an elegant face.
Can I combine a nasal septum correction procedure with aesthetic rhinoplasty?
Of course. In fact, this combination is the only sensible option, and there are no real alternatives. If a patient suffers from a functional disorder – that is to say, if their breathing is impaired – and would also like to undergo aesthetic nasal correction, some of the operative steps are identical. While there are considerable differences between the procedures, they're similar enough that it's often quite logical to combine the two.
How long does a rhinoplasty procedure take?
A classic nose correction procedure takes about 2 hours. However, in more complicated cases, such operations can take up to 4 hours. This depends on the complexity of the specific case, and also on whether operations have been performed on the area in the past. Second operations are often more complicated and take rather longer as a result. Ultimately, though, the most important thing isn't how long the operation takes – first and foremost, we're focused on the quality of the results.
Can rhinoplasty be carried out by non-surgical means?
In certain cases, yes. We can sometimes use hyaluronic acid to enhance the contours of a patient's nose – though this only adds to its size. Without surgery, it's impossible to reduce the size of the nose; instead, we can only work to enhance existing contours and accentuate certain areas. This often concerns the bridge or tip of a patient's nose.
No. You will have to deal with a rather unpleasant sensation while the tamponades are in your nostrils for the first 24 hours after the procedure. However, removing the tamponades will be a great relief, and at that point you'll be free to return home. Of course, wearing the plaster cast isn't too pleasant either, but it's usually removed after a week.
While you're likely to experience some pain in the first few days of recovery, common painkillers are usually effective remedies.
Opening hours
| | |
| --- | --- |
| Monday | 8.00 a.m. - 5.30 p.m. |
| Tuesday | 8.00 a.m. - 5.30 p.m. |
| Wednesday | 8.00 a.m. - 5.30 p.m. |
| Thursday | 8.00 a.m. - 5.30 p.m. |
| Friday | 8.00 a.m. - 5.30 p.m. |
and by appointment