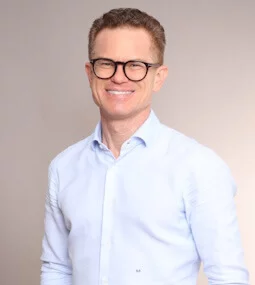 Dr. med. David Kiermeir
Specialist for plastic, reconstructive and aesthetic surgery (FMH)
more than 15 years of surgical experience

since 12 years exclusively active in the field of plastic and aesthetic surgery

over 6,000 performed surgeries
Facts on nose surgery
| | |
| --- | --- |
| Treatment duration: | 1 - 4 hours (depending on complexity) |
| Anaesthesia: | general anaesthetic / local anaesthetic / twilight sleep |
| Hospital stay: | 1 day |
| Removal of sutures: | after 4 - 6 days |
| Removal of plaster cast: | after approx. 1 week |
| Sports: | after 2 - 3 weeks |
| Costs: | from CHF 12.000 |
Look better and breathe easier after nose correction surgery
---
Very few parts of the body are afforded such significance and possess as many diverse attributes as the nose: a source of inspiration for painters and poets alike, it's also the focal point of countless pictures and illustrations, fairy tales and stories. A feature simultaneously admired and mocked, some even say that a nose betrays a lot about a person's character. And, as the nose is the central feature of a person's face, it plays a central role in our appearance. Yet from noses with noticeable humps to those with crooked ridges, and from celestial noses to hooked, beak-like noses, there are some nose shapes that we simply don't like. If a person's septum is misaligned, it can even impair their breathing – making this far more than merely an aesthetic problem.
Thanks to state-of-the-art techniques in aesthetic and plastic surgery, it's now possible to alter the shape of an individual's nose and tailor treatment according to the patient's wishes and ideas. By adjusting the shape and/or size of the nose, we not only enhance the patient's appearance but also bring a sense of harmony to their face as a whole. Rhinoplasty (the medical term for nose correction surgery) alters a patient's nose in accordance with their wishes and in a way that blends in harmoniously with the rest of the patient's face. This operation affords the nose a new shape, thereby altering the appearance of the face as a whole.
Rhinoplasty can correct a long or hooked nose, straighten a crooked nose, narrow a broad nose and fill in any indentations (such as a saddle nose). One of the most complex and demanding operations in aesthetic plastic surgery, rhinoplasty should only be performed by specialists with considerable experience in the field. Dr Kiermeir in Bern is one such specialist.
Generally speaking, nose correction procedures can only be performed after a person's body has finished growing and developing, i.e. from the age of 17 and over. Rhinoplasty offers a range of possible methods to correct a person's nose. Everyone's nose is different – and needs to be treated as such. Standard operations usually produce only moderate results, which is why it's important that the patient's ideas are carefully analysed and their anatomical proportions determined and considered.
Frequently asked questions on rhinoplasty
Opening hours
| | |
| --- | --- |
| Monday | 8.00 a.m. - 5.30 p.m. |
| Tuesday | 8.00 a.m. - 5.30 p.m. |
| Wednesday | 8.00 a.m. - 5.30 p.m. |
| Thursday | 8.00 a.m. - 5.30 p.m. |
| Friday | 8.00 a.m. - 5.30 p.m. |
and by appointment