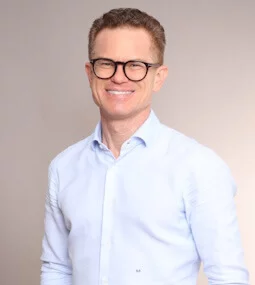 Dr. med. David Kiermeir
Specialist for plastic, reconstructive and aesthetic surgery (FMH)
more than 15 years of surgical experience

since 12 years exclusively active in the field of plastic and aesthetic surgery

over 6,000 performed surgeries
Facts on thigh lifting
| | |
| --- | --- |
| Treatment duration: | 2 - 3 hours |
| Anaesthesia: | twilight sleep, general anaesthetic |
| Hospital stay: | outpatient, 1 day after treatment with general anaesthetic |
| Removal of sutures: | after approx. 1 week |
| Sports: | after approx. 6 weeks |
| Costs: | CHF 12.000 |
Toned, flawless legs are part of our society's ideal of beauty. However, as our skin loses its elasticity over the years, it's common for areas of excess skin to form. This often takes a heavy toll on those affected: they no longer feel comfortable in short clothing and their self-confidence also takes a hit. If exercise alone isn't successful in forming the skin back into shape, a thigh lift could be an ideal solution. In this procedure, carried out in our Bern practice, excess skin tissue is surgically removed and liposuction performed if necessary. The treatment leaves the patient's legs taut, slim and rejuvenated.
Before the thigh lift
Before performing the thigh lift, Dr Kiermeir holds a one-to-one consultation with each patient in Bern to explain the prospects and risks of the procedure. He asks about the patient's personal wishes, examines the excess skin present and works with the patient to draw up a treatment plan. In doing so, they discuss whether liposuction or a buttock lift might also be incorporated as a supplementary part of the thigh lift procedure.
In the weeks leading up to the surgery, there are a few aspects you should consider in order to ensure the treatment is as successful as possible and to avoid complications. For example, you should stop taking any blood-thinning medications for a short period. Dr Kiermeir discusses all important preparatory instructions with each patient personally.
The thigh lift procedure
In our Bern clinic, we usually perform thigh lift procedures using twilight sedation or under general anaesthetic. A short inpatient stay may be necessary following the operation, which takes a total of 2–3 hours.
Before the procedure, Dr Kiermeir specifies precisely where the incisions will be made and how much skin tissue will be removed. The incisions required depend on where and to what extent the skin has slackened. For slightly slack skin high on the inside of the patient's thighs, a semi-circular incision between the patient's groin and gluteal crease is usually sufficient. More extensive treatments often require an additional vertical incision down the inside of the patient's thigh.
After removing the excess skin, Dr Kiermeir inserts surgical drains to ensure that fluids can flow from the wound unhindered. The wounds are then sutured and compression bandages applied. These measures support wound healing and inhibit excessive scarring.
After the thigh lift
If a thigh lift is performed on an outpatient basis, the patient is usually able to leave our clinic in Bern within a few hours of the procedure. However, when carried out under general anaesthetic, a thigh lift usually requires an overnight inpatient stay. After a few days, Dr Kiermeir removes the drains and inspects how the wound is healing. The sutures are then removed after around a week.
It's also crucial that the patient exercises careful, diligent aftercare. In the first few weeks after the procedure, patients have to wear specially adapted compression tights to prevent swelling and bruising. You should also avoid exercise and sunbeds for around six weeks. Dr Kiermeir personally advises each patient on how to care for their surgical scars. Patients are fully presentable and ready to return to work after around 1–2 weeks.
Frequently asked questions on thigh lifting
As with all operations, thigh lifts can also result in complications such as infections and wound healing deficits. However, such complaints are rare and usually easy to treat. Diligent aftercare on the part of the patient also helps to reduce the risk of complications.
If a patient continues to lose weight after a thigh lift, it's possible that new areas of excess skin may form. As a result, therefore, it's best for a patient to reach their desired weight before undergoing the procedure.
Immediately after the operation, you may experience temporary swelling, bruising or a feeling of tightness where the surgery was performed. However, such symptoms usually dissipate quickly with a careful aftercare routine. If you do experience some slight pain following the procedure, you can take standard painkillers as you wish.
Depending on the scope of treatment, a thigh lift may result in relatively extensive scarring. However, any scars will be on the inside of the thighs – and so won't be visible at first sight. Smaller surgical scars can usually be well hidden by underwear. Diligently caring for the scars following surgery can also help them to heal as well as possible and ensure that they remain inconspicuous when healed.
Opening hours
| | |
| --- | --- |
| Monday | 8.00 a.m. - 5.30 p.m. |
| Tuesday | 8.00 a.m. - 5.30 p.m. |
| Wednesday | 8.00 a.m. - 5.30 p.m. |
| Thursday | 8.00 a.m. - 5.30 p.m. |
| Friday | 8.00 a.m. - 5.30 p.m. |
and by appointment